Letters from George Wolz, 3rd Missouri State Militia Cavalry (1st Org) 1862
George Wolz was a soldier in Company I of Isam McCormick's regiment . George sent letters to his family and his brother who was also a soldier. Some of these letters were transcribed and are available from the Missouri Historical Society.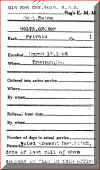 There are eight letters during the period that Isam on record that describe what company I and possibly what Isam's company was doing during the period. Isam's muster cards appear to comport with the letters. Three of the front pages have been scanned to show the interesting artwork.
July 6, 1862, PO Cassville, Barry County, MO. To parents. Encamped "at present on a very high and rocky ridge of the Ozark Mountains on one of the best places..." Tells about "twenty of our company on the sick list some with the measles and some with the fever. Some with laziness and some with cowardice."

August 4, 1862, eight miles out of Springfield, MO. States on Friday, Aug.1 to march to Cassville. Received orders to abandon Newtonia and head back to Springfield. "..took up our line of march about sundown Friday evening marched all night and until two o'clock next day then got started out it was about nine o'clock at night and our train including the refugees train and home guards was about seven miles long and we had in the train including women and children about two thousand or twenty-five hundred people to protect and had to march through a deep gorge in the mountains that was welled up on both sides and impossible for cavalry to make a charge but well adapted for bushwhacking and if the rebels had attached us with five hundred well armed men and their batteries they could have cut us to piece without assisting each or very much for our regiment was so divided as to each and every part of the train both our own and the train of citizens that had come to us for protection you can judge for yourself the chance we had in a road that was so narrow that a horseman could not pass a wagon with the wagon stopping or the horseman stopping to let the wagon pass on. ... We marched out through the wilderness and then on to high prairie where we moved at our ease but marched all night and the next morning until about ten o'clock the next day and then stopped to rest and get a bite to eat. But instead of many going to cooking they mostly went out to some shade tree to take a little sleep which they very much needed after marching almost forty-eight hours on two meals victuals and not rest or sleep. But we have the satisfaction of resting a few days or until the paymaster pays us off. You will need some explanation for our hasty retreat and for burning our baggage and provisions. In the first place it was reported that there was a large force of rebels marching for Rolla and another force marching for Springfield and still another marching for Cassville..."

August 11, 1862, Springfield, MO. Saturday before they were ordered to Newtonia to relieve "Col. Hubberd" who was surrounded.

August 26, 1862, PO Springfield, Green County, MO. To brother John: Encamped Springfield, MO. "The boys are all gone out on scout. The last we heard from they out after Cofey and had taken a good many prisoners and killed a good many and the last we heard from them they was after Cofey and they was going south in Arkansas. There are a good many troupes here. There are about twenty thousand."

Isam's muster card: August 30, 1862, listed as absent, sick at Springfield

September 22, 1862, 15 miles east of Springfield, MO. Tells about fighting: 20 of his forces missing, some taken prisoner, some killed.

September 24, 1862, 15 miles west of Springfield, MO, on Mount Vernon road. Report of 15 thousand rebels along Arkansas border.

October 13, 1862, Cassville. Letter to brother John. Encamped 12 miles from Arkansas border. Tells about "a little fight at *** on the last day of September. When I got there it was night and the causes troops had fallen back and the rebels was falling on our troops but when we came up with our reinforcements the rebels fell back into the town. First the rebels threw some bomb shells in our ranks and wounded one of our men and he had died since then. There rebels shot with two pieces of artillery. Our troops has got twenty pieces of artillery... It was night and our troops fell back until they waited until the second day when our troops went the rebels was leaving but our troops pushed them so close that we got some prisoners and killed about 200 soldiers.

October 31, 1862, Osage Springs, Arkansas, to brother John, about 20 miles from Missouri border. Tells about fighting since end of September. Unknown number of "our troops was killed then." "Started after the rebels the last of September from Mount Vernon in Mo. and went to **** there the rebels stood us a fight and our forces whipped them out and killed about 200 wounded a good many of them. We got one man wounded in our company with a piece of shell that was all that got hurt in our regiment. I don't know how many of our troops was killed then. We kept after them and they went by Cassville and from there to Pea Ridge and from there to elm Springs. There we got a man wounded on picket and the rebels left their sick and wounded there..."
Isam's muster card: AWOL since Oct 1, 1862.