Feigning Heart
Book Three Njoro Series
A Novel by Rod McCormick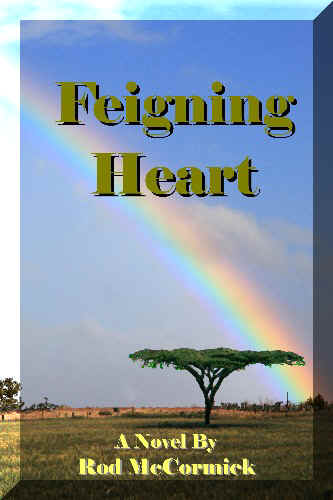 Summary
"'T'was a fair-clothed but feigning heart I loved, and has undone me." -Henry Reynolds
Looking forward to Kenyan Independence, bureaucrat Tom Odhuno is willing to do anything to climb the ladder of power in his new nation. In the Kenya highlands a roadside robbery brings three people together. Odhuno and his young wife Eve Wakimu are set upon by thieves and Odhuno is robbed of everything. Jude Muigai, a student and farmer's son, comes to their rescue earning Odhuno's gratitude, but it is love at first sight for Eve and Muigai.
Eve claims she is Odhuno's slave because Odhuno paid "bride price" to her father for an arranged marriage. Odhuno claims Eve is bad luck for his career and wants return of the bride price. Odhuno who also has a city wife Viki divorces country wife Eve, separating their son Dhano and daughter Rose Waridi. Despite her love for Muigai, Eve seeking security for her and Rose marries British teacher Thomas Tatton. Odhuno as a corrupt bureaucrat accrues power and becomes wealthy poaching rhinoceros horns.
Tragedy and career bring Eve and Muigai back together in the highlands of Kenya, while a lust for power brings Odhuno more deeply involved in corrupt government..
232 pages 104,000 words. Fiction/Suspense
Kindle™ and Paperback version on Amazon.com with excerpt - click here.
eBook Nook™ version at Barnes and Noble - click here.
Paperback version at Barnes and Noble - click here.