<![if !vml]>

<![endif]>
[Most recent material at the bottom]
Some already know that I feel possessed by my great great grandfather Isham McCormick, whose name in various documents was spelled
Isum McCormick, Isam McCormick, Isam McCormack, Isham McCormack, Isom McCormick, Isom C. McCormick, Isam H. McCormick.
Searching for Isum is now a book!
click here for more information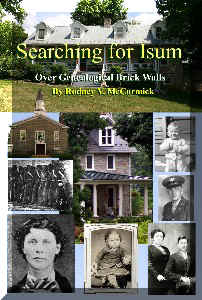 The first I heard about "Isum" was that he had disappeared one day, and someone found his empty wagon, and he was never heard from again. Land records indicated that he was able to buy and sell land easily enough. No one knew about his service in the Mexican War, at the Battle of Buena Vista, and obtained a total of 320 acres of public land for his service; nor did anyone know that he had enlisted in the Civil War in Missouri. No one knew who his father and mother were, nor his family and where he was from. The more I learned, the more I wanted to find out about Isham, as if he were standing over my shoulder telling me there was an interesting story out there to be told; whispering to me where to look next for the newest clue.

Note: the signature was when he was 18 signing off on his discharge papers that he had been paid for his service in the Mexican War.
Below is a list of documents that I am working on linking to this page. I have found quite a bit, and currently looking at the Civil War documents and where all his extended family was living and how they were involved in that conflict.
Work of Claudia Sue Heiser, who researched the ancestors of Claude Ray McCormick and Cora Beryl Vail,
The lineage for Claude Ray McCormick as
William Isaac McCormick (mac) born 1890 in Hancock Co. Illinois
Lafayette Harrison McCormac born 1854 in Hancock Co. Illinois
Isum McCormick born unknown, but, based on family lore, disappeared sometime after 1858.
Documents:
1. Marriage license for Isum McCormick and Eliza Jane Wilson.
2. Land transfer documents with Isaac Wilson and O.P.Baker.
3. Land transfer index for Walker Twp, Hancock County, Illinois
4. Census pages for 1930(3), 1920(2), 1910, 1900, 1880, 1870, 1860
Found by Gail Slade index on Mexican War and "Isham McCormick."
I sent off to NARA for Mexican War documents for one Isham/Isam McCormick (mack).
1. Mexican War Discharge letter 1847.
2. Application for land bounty in 1847.
3. Land warrant 1848.
4. Application of land warrant 1858.
5. Land warrant 1858.
New information: Name: Isam or Isham, McCormick, McCormack. Born in Indiana about 1829. Occupation farmer, height 5'11" brown eyes fair hair and complexion. Isham was in Jacksonville, Illinois, in 1846 to enlist, and was there also in 1847 to apply for the land warrant.
Paternal DNA testing
I first tried National Geographic DNA testing with 12 markers, then Family Tree DNA, 25, 37 then 67 markers.
Rodney V. McCormick matched exactly with Ivan H. McCormick in Oregon. Ivan's wife sent me his lineage, and I looked around for someone related to Ivan who might possibly be Isham's father and mother. The likely candidate was a child of John McCormick, 1754, who was born near Winchester, Virginia, and lived in Pennsylvania, Ohio, and died in Fayette County, Indiana in 1837. John has many children and their descendants are well known, with the exception of Robert McCormick, born 1804 in Butler or Preble County, Indiana. Click for McCormick y-DNA markers.
John McCormick 1754

Winchester, Virginia

Joseph 1795

Butler Co. Ohio

Robert 1804

Butler or Preble Co. Ohio

Joseph C. 1829

Indiana

Isham 1829

Indiana

William E. 1856

Lee Co. Iowa

Lafayette H. 1854

Hancock Co, Illinois

Earl E. 1891

Oregon

William I. 1890

Hancock Co, Illinois

Ivan H. 1928

Oregon

Claude R. 1918

Hancock Co, Illinois

Rodney V. 1948

McDonough Co, Illinois

<![if !vml]><![endif]>Exact 67 point y-DNA match between Ivan & Rodney
Known about Robert McCormick 1804:
1. He married Elizabeth Job 30 Aug 1827 in Wayne Co, Indiana, daughter of Samuel Job and Rachel Call.
2. Father-in-law Samuel Job bought 91 acres of public land in Putnam county, Indiana, in section 1, twp 15-N 4-W in 6/26/1827 and in 1/30/1828 section 12 twp 15-N 4-W 80 acres.
3. Robert McCormick census 1830, 1840, Putnam County, Indiana.
4. Samuel Jobe buys land in Van Buren County, Iowa, 12/1/1841 47 acres, 5/1/1843 40 acres.
5. Samuel Job and family headed out to live in Missouri 1844, but wife Rachel died along the way, and Samuel and family end up in Quincy, Illinois, and Samuel died 14 Jan 1848, in Quincy.
6. Probate papers for Samuel Job indicates Robert McCormick and wife Elizabeth are living in Hancock County in 1848 and 1949 to file claim against Samuel Job's estate.
7. Robert McCormick Iowa census 1849, 1852, Van Buren County, Iowa, US Census Van Buren Co. 1850. Also, 1860, Deer Ridge PO, Lewis County, Missouri; 1870, Winchester PO, Clark County, Missouri.
8. Brother-in-law, L.D.Cooper (wife Lavina Job Cooper was sister to Elizabeth Job McCormick) bought land in Walker Township, Hancock County, in same section that Isam McCormick later bought land. See land purchase index. See 1850 census for L. D. Cooper.
Before the War
Where Isham's relatives were living in 1860
Civil War Documents
At first I did not want to believe it, since he was listed as a deserter; but after researching other ancestors, I found they too were listed as deserting when they were in fact wounded and in a hospital. So, I thought more research was needed. First he enlisted in the 3rd MSM, and was listed AWOL as of Oct 1, 1862. His name was carried forward when the 3rd MSM was merged with the 6th MSM, but Isam had long been somewhere else. I came across an I. H. McCormick buried south of St. Louis in a national cemetery, who died on 17 Dec 1862 in St. Louis but was reburied at Jefferson Barracks. I asked NARA for information on that person and they came back with Isam as the best match. More research is needed.
Isam McCormack enlisted in 3rd Missouri State Militia Cavalry.
Letters from George Wolz, who was in Isam McCormick's regiment.
I was looking through the 1870 census for our Robert McCormack near Winchester, Clark Co, Missouri and noticed on the previous page the second house away from Robert was a Suzan McCormack born in Indiana. Whoa! I thought. So I started piecing together everything I could on her and her family. My theory is that she married one of Isham's brothers, likely John L. based on census info, and that was why she lived so near to Isham's father Robert. Link below, I put all the info I have so far on this family trying to figure how she is related to us. Her son William Robert McCormick went by both names. Her mother Elizabeth Bruce was born in Ohio. Some interesting facts: William married a Golliher, albeit a widow. Isham's daughter Rebecca married a Golliher. Suzie lived near Isham's son James Isaac McCormac in Quincy. One of William's son was named Carl, who also had a son named Carl, who may still be alive. Click for RTF document with data.
3/23/08. I had sent a letter to the Superintendent of The Jefferson Barracks National Cemetery asking about the page out of the book I found which listed an I.H. McCormick as having been buried at JBNC. The database person got back to me saying that he has no I.H. McCormick listed in his database. So, either the book is wrong or their database is incomplete or wrong. I suppose due diligence would require me to go to the section in JBNC and check out all the markers. Any ideas? Send me a note.
4/9/08. Interesting find: Isham's uncle William Cooper bought 40 acres of land in Union Twp of Clark County, Missouri, in May 1859. This is perhaps 15 miles from where Isham's father was living near Winchester, MO, in 1870. William and Mary Cooper were living in Putnam County, MO, in 1860 census, and later moved on to Oregon. From BLM: land was in section 4 of township 63N 8W This is the year after Isham obtained 160 acres of script warrant for his service in the Mexican War.
In looking over Eliza McCormick's neighbors in 1860, a few houses south of her in Walker Twp, Hancock Co, Illinois was a Cooper family, headed by "Harvey" in 1860 but "James H." in 1850. I was curious if they were related to Isham's uncles, Lorenzo D. and William Cooper. Combining the 1850 & 1860 census information. Click for James Harvey Cooper's family Anyone know who he is? Is he L.D. and William's brother?
On my recent Ancestry trip, my sister and I found a Savil Orr in a cemetery in Ursa, IL. My searching for him led to a lot of links that explain how Isham McCormick and Eliza Jane Wilson got together, which was always one of my mysteries. Savil Orr's parents were Joseph Orr and Susan Wilson daughter of Savil Wilson and sister of Isaac Wilson who was Eliza's father.
Joseph and Susan married in Rush Co, IN, at a time when Isaac Wilson's brothers, Reuben, John and Savil Jr were living there, which was up through the early 1830s. At the same time, Isham and his father Robert and mother Elizabeth, her father and sisters were living in Putnam County, IN. Joseph Orr had bought land in Putnam county (the patents indicate that he was from Hamilton Co, OH), but was living in Clermont County, OH, near Savil Wilson Sr, who was his father in law.
Elizabeth Job McCormick's sisters, Lavina and Mary married two Cooper boys, Lorenzo and William Jr, respectively. The parents of the Cooper boys were William Cooper Sr and Martha Orr. The Cooper boys and parents were living near Elizabeth's father Samuel through 1840. Martha Orr Cooper appears to have died in Putnam county in 1840. In 1830 Joseph Orr appears both in Clermont, OH, and in the Putnam, IN, census, which suggests either he had farms in both places or 1830 was the year he moved. Although I have not gotten proof, but it looks like Martha Orr might be an older sister to Joseph Orr. Martha was born in PA, Joseph in KY, but later was living in OH, IN and IL.
I did find a Thomas Orr, who filed for a Rev. War pension, and he like our John McCormick was at Fort Bedford, PA, during the Rev. War. He was in Hamilton Co, OH, (next to Clermont) in 1832 applying for another pension. He states that he lived in PA during the revolution and up until he moved to KY, where he lived awhile before moving to OH, and the Cincinnati area. This would be the kind of father to both Martha and Joseph Orr that I would be looking for.
Ancestry.com has put online images of Illinois State Census pages. I found "Isum McCormic" along with other relatives on one page. He
is listed as a member of the militia, had over $300 in live stock and 3 pounds of wool (?).
http://rodmccormick.com/IsumMcCormick1855ILLCensus.jpg
His neighbor Lafayette Frazer had a lot more wool...they raise sheep? In 1865, Eliza McCormick is listed as Louisa McCormick, with the right
number of kids. She is listed as head. Good amount of livestock, agricultural products and wool.
http://rodmccormick.com/McCormick1865WalkerHancockIL.jpg
It must be some "guiding hand" that a bundle of documents arrived from the National Archives the day before Veterans' Day.
I had been researching our Civil War ancestors/relatives and found a bunch of McCormicks in the Indiana 51st Regiment. They turned out to be
Isham's cousins and second cousins. In looking for one George W. McCormick's grave, I was mislead by a Confederate soldiers monument in
Indianapolis, for soldiers who died in the POW prison there. It is a beautiful memorial, and nicely tended, however that George W. McCormick
was from Missouri, and not closely related to us. I kept searching and found George's gravestone order for his monument to be shipped to
Brownsburg, IN, and I found the cemetery. It is a tiny, neglected place next to a railroad track, overgrown, and his monument is nearly
melted away. A lady and her husband online took some pictures for me and posted them.
I read the NARA documents about George's service and became both saddened and angry. He enlisted when he was supposedly 19,
with two brothers and three cousins, joining in Indianapolis, and survived quite a few battles, but on the march to Greeneville, TN, on
April 4th, 1865,recovering from a bayonette wound, he fell down and was placed in an ambulance. Later his friends discovered him along the
road unconscious. They took him to camp where he died the next day without medical attention. There were many documents about medical
neglect and the resulting investigation by the chief surgeon. It concluded that the ambulance was carrying officer baggage instead of
sick soldiers. It is to a history buff like me very interesting reading. I put together a few of the pages at
http://rodmccormick.com/CW/GeorgeWMcCormickInd51.PDF
Our distant cousin George W. McCormick, who died that others may be free, was so poorly treated by his regiment, and lies in such a sorry
cemetery. I wish we could reach across time and thank him for his service.

May 3/2010: Now that I am retired, I am hoping to make more progress satisfying my curiosity.
Civil War Research:A couple of years back, I sent a letter to the Superintendent of The Jefferson Barracks National Cemetery asking about the page out of the book I found which listed an I.H. McCormick as having been buried at JBNC. They only referred to their database, while I was curious if any "Unknown" burial may be our Isham McCormick. I was hoping a niece who lives across the river from JBNC would take a trip and check out who is buried in that section. After several years, I decided to post the information from the old book on FindAGrave.com, and several volunteers responded. Two were not helpful in that they repeated the fact that the JBNC has no such person. One volunteer did go out to that section and found a soldier by the name James H. McCormick buried in that section.
I looked him up on the Missouri state archives and found a service card for the fellow who was in the 27th MO infantry. He died December 18th, 1862 at Benton Barracks, MO, and was buried in the national cemetery. The I.H. McCormick supposedly died Dec. 17th, 1862, was an Iowa soldier and was buried in St. Louis, but re-interred to JBNC.
Because of the 19th handwriting, an "I" was commonly mistaken for a "J" in handwriting, but rarely if an "I" was properly written would it be confused for a "J". At this point, a simpler explanation is James H. is really the I.H.
It is disappointing that record keeping was so poor, but the Civil War in Missouri was a four year riot.
yDNA research: I was surprised to find on ysearch.org that my yDNA perfectly matches to the Dal Riata (Dalriada) group. This refers to a Gaelic "overkingdom" that stretched from Ulster in Ireland to Argyll in Scotland. According the Bryan Sykes, a geneticist who wrote "Seven Daughters of Eve" and "Saxons, Vikings and Celts," there is very little difference genetically between Ulster and western Scotland because of Dalriada. He indicates that the folks who came from Scotland for the Ulster Plantation, were the descendants of the Irish who colonized Scotland during Dalriada. So, my yDNA traveled quite a bit!
NEWEST MATERIAL
July 5th, 2010
I check on the Bureau of Land Management online database site occasionally looking for updates. They are finally getting around to the land patents obtained using Mexican War Land Bounty Warrants. Our Isham obtained a land bounty in 1848 and another in 1858 for his service. The BLM has the land patent now online at BLM . Click here for the picture of the land patent obtained with Isham's warrant. Apparently, it was sold to a Franklin Runyan and used to buy land in Dallas County, Iowa in 1851. I found Runyan living in the next county over in 1852 Iowa census, otherwise I don't know whether Runyan bought the warrant directly from Isham or through a broker. Unimproved Illinois farmland was going for 4 to 5 dollars an acre from the government in the early 1850s. So, I wonder what was the calculation the 18 year old Isham made: cash now for a horse and a small farm or 160 unimproved acres?